Intro:
Building Information Modeling (BIM) revolutionizes the architecture, engineering and construction industry, providing significant benefits in terms of collaboration, efficiency and accuracy. However, many renovation, operation & maintenance projects still often use traditional 2D plans. One of the crucial issues is to transform these plans into digital models in IFC format. In this blog, we will explain you how to do it with Artificial Intelligence.
A quick reminder about the IFC format:
IFC stands for Industry Foundation Classes, which is a file format and standardized digital description of the built environment. It is an open international standard used in the architecture, engineering, and construction (AEC) industry for data exchange that ensures smooth BIM processes. IFC acts as a neutral format and can be easily shared between different systems and stakeholders.
IFC files can be used on a wide range of hardware devices, software platforms and interfaces for many different use cases.
IFC has been developed by buildingSMART International to achieve its goal of promoting openBIM®.
Have you ever wondered if it is possible to get IFC models from 2D plans?
Good news! There is now a simple and efficient way to automatically convert your 2D architectural plans into IFC BIM models, no matter if they are scanned plans, CAD files or old paper plans.
WiseBIM has developed an innovative Artificial Intelligence solution called Plans2BIM, this online software is able to generate BIM models from 2D drawings and offers a 50% time saving in your modeling process. Whether you are a BIM professional, an architect, an engineer, a construction professional, or simply interested in innovative technologies, read on to discover how Plans2BIM will change your work process and become an indispensable tool for your projects.
How this solution works?

Plans2BIM is accessible directly online, it does not require any download or installation. You just have to connect to https://plans2bim.com on your browser and create an account (the creation of a "Starter" account is free

).
Once registered, you will discover a very intuitive software interface.
To start generating your BIM model, create a project and import one or more of your 2D plans. Plans2BIM supports PDF, PNG and JPEG file formats. If your plan is in DWG or another format, you will need to convert it to one of these formats first.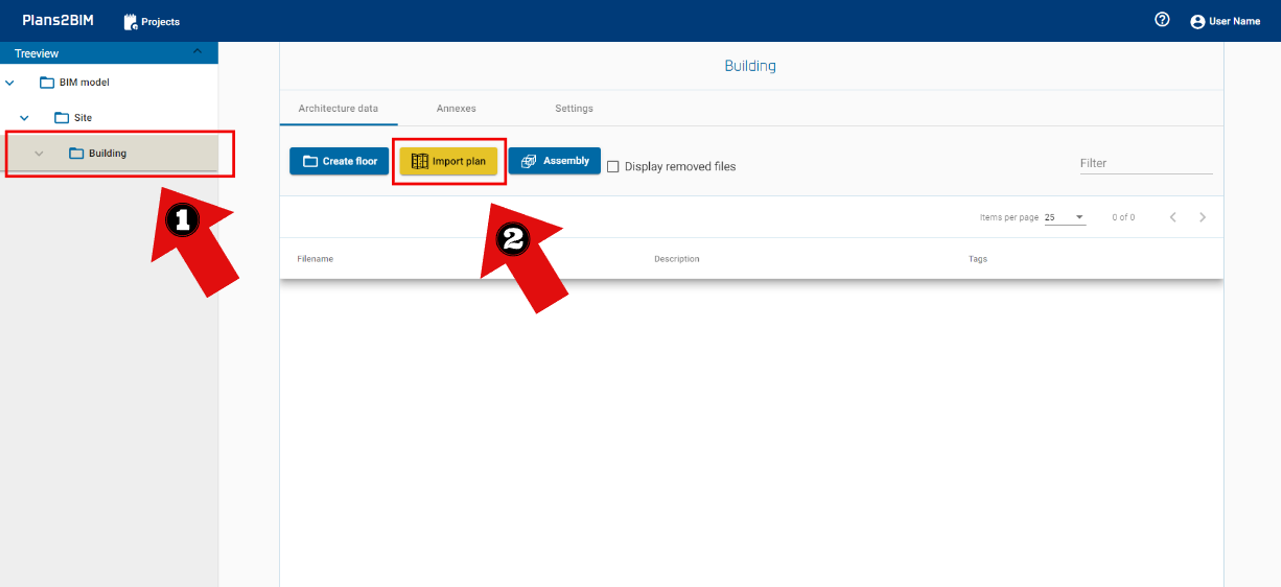 Once you've imported your plan, open it in the modeling tool.
The first necessary step is to set the scale.
After filling in some height parameters, you can start the AI detection. The detection process is very fast, it takes between a few seconds and 5 minutes depending on the complexity and size of your plan.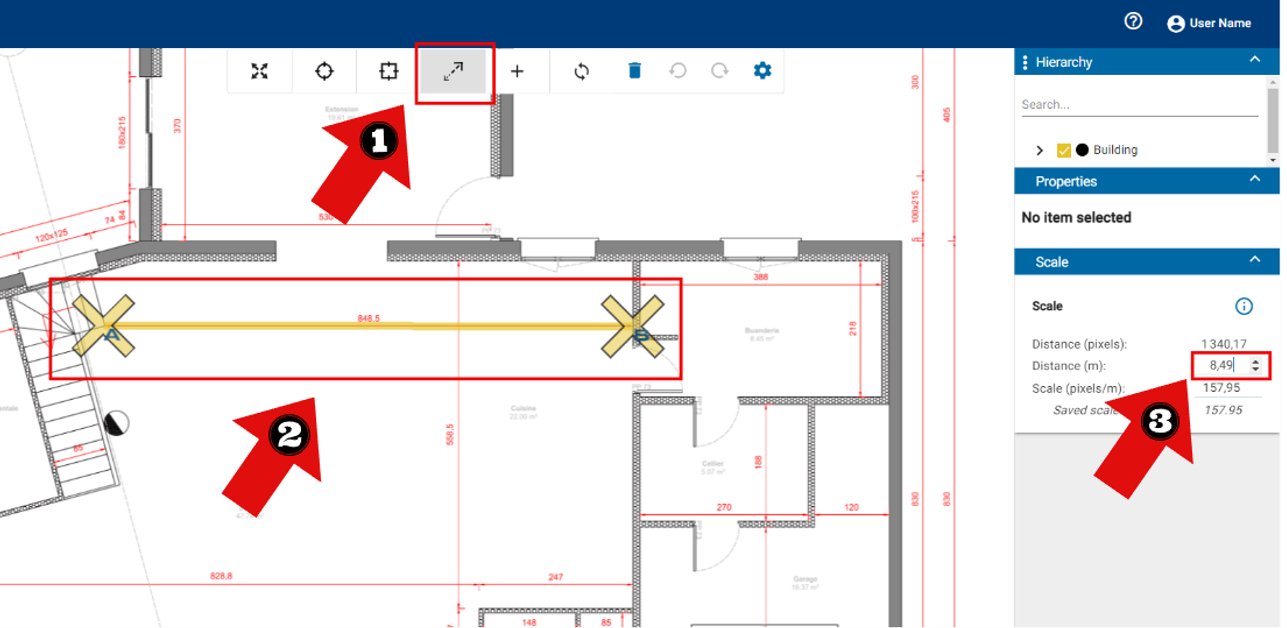 Once the detection is complete, you will be able to view your results in 3D or 2D. You can check the models of doors, windows, exterior and interior walls, spaces and slabs to ensure that they have been accurately detected. If you need to change anything, Plans2BIM provides a simple and intuitive editing tool that allows you to modify, delete and add different objects as needed.

Furthermore, you can add object properties and materials to the model using the properties panel on the right side of the interface. This allows you to specify the properties of different objects.
When you are satisfied with your result, you can save your work and export it in IFC format.
You can also export not only IFC models, but also quantity take-offs in CSV format as well as CAD DXF files.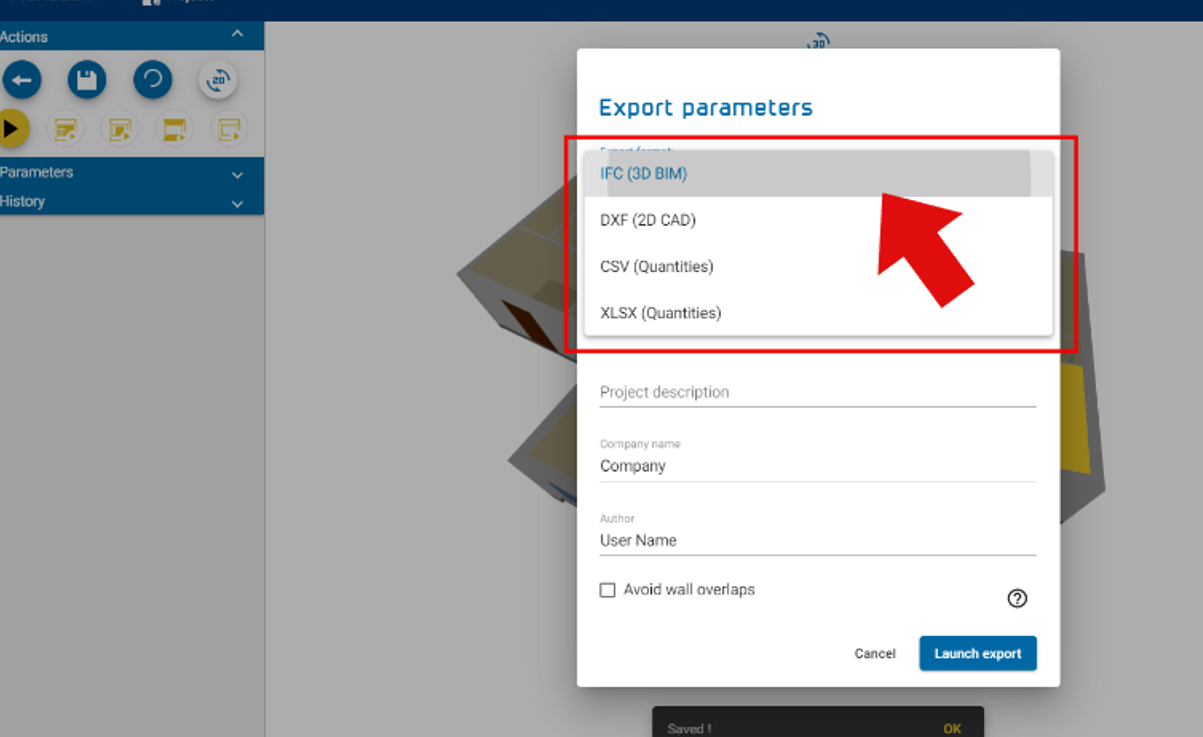 So, if you are looking for a fast and accurate way to create BIM models from your scanned 2D plans, whether you are an architect, engineer or construction professional, Plans2BIM will save you time and effort while improving the accuracy and quality of your projects.
Now it's up to you, discover the tool